Top Management Message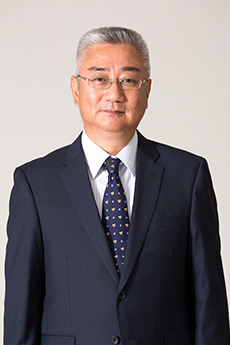 We would like to express our sincere gratitude for your continued support for our business activities.
We are pleased to report on our business performance for the 72th term (Apr. 1, 2019 to Mar. 31, 2020).
Economic conditions during the term remained challenging and unpredictable. Various factors drove a pronounced trend toward a slowdown in the global economy. These factors included prolonged US-China trade friction and growing geopolitical risks. The impact of the novel coronavirus (COVID-19) pandemic beginning around the start of calendar year 2020 further slowed the global economy.
Under such business conditions, the Soken Chemical & Engineering Group is seeking to strengthen the earnings foundations of its existing businesses by enhancing production capacity in response to growing demand related to large-scale LCD panels in the China market, as well as by identifying the needs of markets and customers, thereby improving its product development and solutions capabilities. The Group is moving forward with structural reforms in various ways across its businesses, including shifting resources toward high value added products and optimizing Groupwide business-promotion structures. It is also creating new business domains through collaborations with other companies in the automotive and healthcare fields, areas where technical innovations are currently advancing.
However, sales fell year on year due to lower sales of chemicals attributable to economic slowing in China and production adjustments related to LCD panels. Also contributing to stagnated sales was a decrease in completed construction projects of equipment systems due to slowing domestic capital investment, resulting from a growing sense of caution. In terms of profits, ordinary income was down from last year due to the effects of lower sales volumes and yuan devaluation, while various other factors, including the recording of deferred tax assets at subsidiaries in China, boosted net income.
The three-year New Value 2019 medium-term management plan, for which JFY2019 is the final fiscal year, identifies as basic policies "business expansion and profitability improvements in the Asia region" and "expanding business domains through creation of new products and services." In line with these policies, we have focused on expanding our market share in large-scale LCD panel-related fields in China and securing new projects in fields expected to experience future demand growth. With regard to the medium-term management plan's numerical targets, sales set new record highs in both JFY2017 and JFY2018 but fell far short of targets in JFY2019 due to the impact of economic slowing in China and lower demand. We recognize a pressing need to strengthen anew our ability to adapt to changing business environments.
Among other factors the global economic downturn resulting from the COVID-19 pandemic clouds the Group's current business prospects. As the pandemic gradually comes under control, we expect changes in market structures and customer needs. Based on our basic policies— responding with agility and flexibility to change to build stronger revenue foundations for existing businesses, and remaining alert to change to create new business domains as future pillars—the Group will address the following topics:
① Creating new business domains to serve as pillars of our businesses for the next generation
In growth areas such as the automotive, energy, and medicine/healthcare fields, we will build structures to advance Groupwide business strategies and establish business foundations to serve as pillars for the next generation.
② Building systems for continual creation of new businesses
Indentifying business opportunities amid future social and environmental change and technological innovations, we will build systems that permit the sustained development of new businesses through proactive use of external resources, unconstrained by existing technologies and expertise.
③ Strengthening business foundations to support sustained growth
In addition to training and securing globally competent human resources to lead the next generation as well as building and maintaining a human management system to capitalize on the Group's diverse human resources, we will advance the Group's business administration systems and promote functional enhancements to support new growth strategies.
Undaunted by our changing environment, the Group will aim for continuied growth and progress by boldly and proactively taking on the challenges of innovation to create new value.
We thank you for your continued understanding and support.
Junichiro Fukuda
President